The buyer's and renter's guide to NYC's public and private elementary schools - By Brickunderground.com
Get link

Facebook

Twitter

Pinterest

Email

Other Apps
Although free pre-K is guaranteed for all four-year-olds, not all public schools participate in the program
A test is no longer required for the gifted and talented program, but the entrance process is still complicated
The admissions process and tuition varies for each private school; all offer financial aid based on eligibility
In most places, when you're a parent searching for a place to live, you typically want to know how close is the elementary school your child(ren) will attend. But in New York City—like so many aspects of living here—getting into an elementary school can sometimes be very complicated. Living near an elementary school doesn't necessarily mean your children will go to school there.
The reason: NYC public elementary schools rely on a zoning system—and so you could live a few blocks from a school but still be outside of its geographic boundaries and zoned for a different school instead. (Depending on where you live, you are likely to still have a few options for elementary school.)
---
[Editor's Note: A previous version of this article was published in August 2022. We are presenting it again with updated information for August 2023.]
---
Another unique aspect of NYC public school is its gifted and talented program, which offers accelerated instruction to eligible elementary school students. In a major shift (as of August 2022), acceptance is no longer determined by special testing. Instead, acceptance is based either on a Department of Education (DOE) ) pre-K teacher's determination or a parental interview by a DOE staff member who then nominates your child into a lottery.
Sound confusing? Fortunately, there are lots of resources available to help navigate the whole public and private elementary school situation. Brick talked to some of the experts who track NYC schools to find out what has changed and what you need to know whether you're looking to rent or buy—and whether you have young children now, expect to in the next few years, or just want to buy a place that will be in demand by families when it's time for you to sell.
Public elementary school options
About half of NYC children who attend public elementary schools go to the school that they are geographically zoned for (see more on school zones below). The rest head to charter schools, magnet schools, and gifted and talented programs at designated schools.
The percentage of students attending zoned schools has dropped in recent years.
"Many more families exercise school choice than most people realized," says Clara Hemphill, founder of InsideSchools, a website with independent reviews of schools and guides to the NYC school system. (Hemphill, who has since retired from InsideSchools, is the author of "New York City's Best Public Pre-K and Elementary Schools: A Parents' Guide" as well as "A Brighter Choice: Building a Just School in an Unequal City," published in March 2023.)
One helpful tip: By answering a few questions, InsideSchools will generate a list of schools that your child is eligible to attend. The site also has forums for parents to chat about their experiences with schools called InsideSchools+, and parents can set up a free membership and take online courses to learn about the school admissions process.
In general, the process works like this: To keep your options open, you apply to several different schools. (For kindergarten, you can list up to 12 schools on one single application). Even if you choose to go with your zoned school, you must still apply in advance for a seat.
NYC's MySchools is the portal where you create your application and get guidance on the admissions process. In 2023, according to education consultant Robin Aronow, founder of School Search NYC, which helps guide NYC parents through the school application process, applications for all DOE options, including general education, gifted and talented, and the Special Music School, were on one application that opened in early December and closed in mid-January. Placements were released in early April. Charter school applications are generally due April 1st, with placement notifications shortly afterward.
Have questions about a specific school? Every public school has a parent coordinator who is available to answer questions about the process. The contact info is typically listed on the school's independent website, as well as the DOE's website for each school or on InsideSchools.
How do you get into NYC pre-kindergarten?
One of former Mayor Bill de Blasio's major initiatives was free pre-K for all, and all four-year-olds in the city are now guaranteed a spot. The city followed that popular program with a 3-K program, offering free, full-day early childhood education to three-year-olds, and expanded it city-wide last year. However, placement is not guaranteed.
It's important to understand that not all public schools offer pre-K programs, so your child may have to travel out of your area to attend. Of those that do offer them, many have limited space. There are also pre-K centers run by DOE staff, like K280 School of Journeys in Windsor Terrace (at the Bishop Ford School Site), considered to be the model for the program.
Pre-Ks are zoned by district, so you can apply to go to any pre-K in your district, but keep in mind that kids aren't eligible for bussing until they're five years old or older. You can also apply to a pre-K outside your district, but residents in that district will be given priority.
Worth noting: Aronow says that even underperforming schools tend to have pretty good pre-K programs.
An important caveat: Just because your child attends a pre-K program at a school does not mean they are automatically enrolled in that school's kindergarten. Kindergarten is a separate application process. Once a child is enrolled in a kindergarten in a school, for example, that goes through fifth grade (or higher), they do not need to apply again.
What are zoned schools?
Some schools have a catchment area, referred to as a "zone," and if you live in a school's zone, your child has priority to attend that school. (So students can apply to a school they are not zoned for, but if there is a waitlist, they get in line behind students that reside within the zone.)
Schools are part of districts; there are 32 school districts in the five boroughs and hundreds of school zones.
School zone boundaries don't often make a lot of sense. You may live down the street from a school, and one side of the street will be in the zone and the other side is not. In addition, sometimes schools "rezone" or redraw their boundaries.
When a rezoning happens, families with children already attending a school that find themselves outside the zone will continue to attend the school, but newcomers will go to a different school.
You can check out which school your current apartment (or the apartment you're interested in) is zoned for on the DOE website, or by calling 311 or the school's parent coordinator. Additionally, you can use InsideSchools's search to find the zoned school for an address, as well as other schools in that district.
Laura Zingmond, senior editor at InsideSchools, says if you're considering a move to a place that appears to be on the border of a school zone, don't take a broker's word for it that it falls within a certain zone. Some apartment listings include school zones, but the information can be outdated or erroneous.
The safest bet—and a must-do piece of due diligence to make before signing a lease or contract—is to call the school you think you're zoned for, as they'll have a database of all the addresses that fall in their catchment.
How to do research on a school
Once you've found your zoned school, do a search for it on the DOE site and then click on the school's name. You'll get a lot of information, including the school quality guide, which is based on results from the NYC School Survey and more information on student achievement, and the quality review report, which is the result of a two-day visit by an experienced educator. Be aware that the reports might be from previous years as there were no state tests in 2020, and in 2021, nearly 80 percent of students in third through eighth grades did not sit for the tests.
Another good place to do your research is InsideSchools's "staff picks," which can be found by refining a search on the site.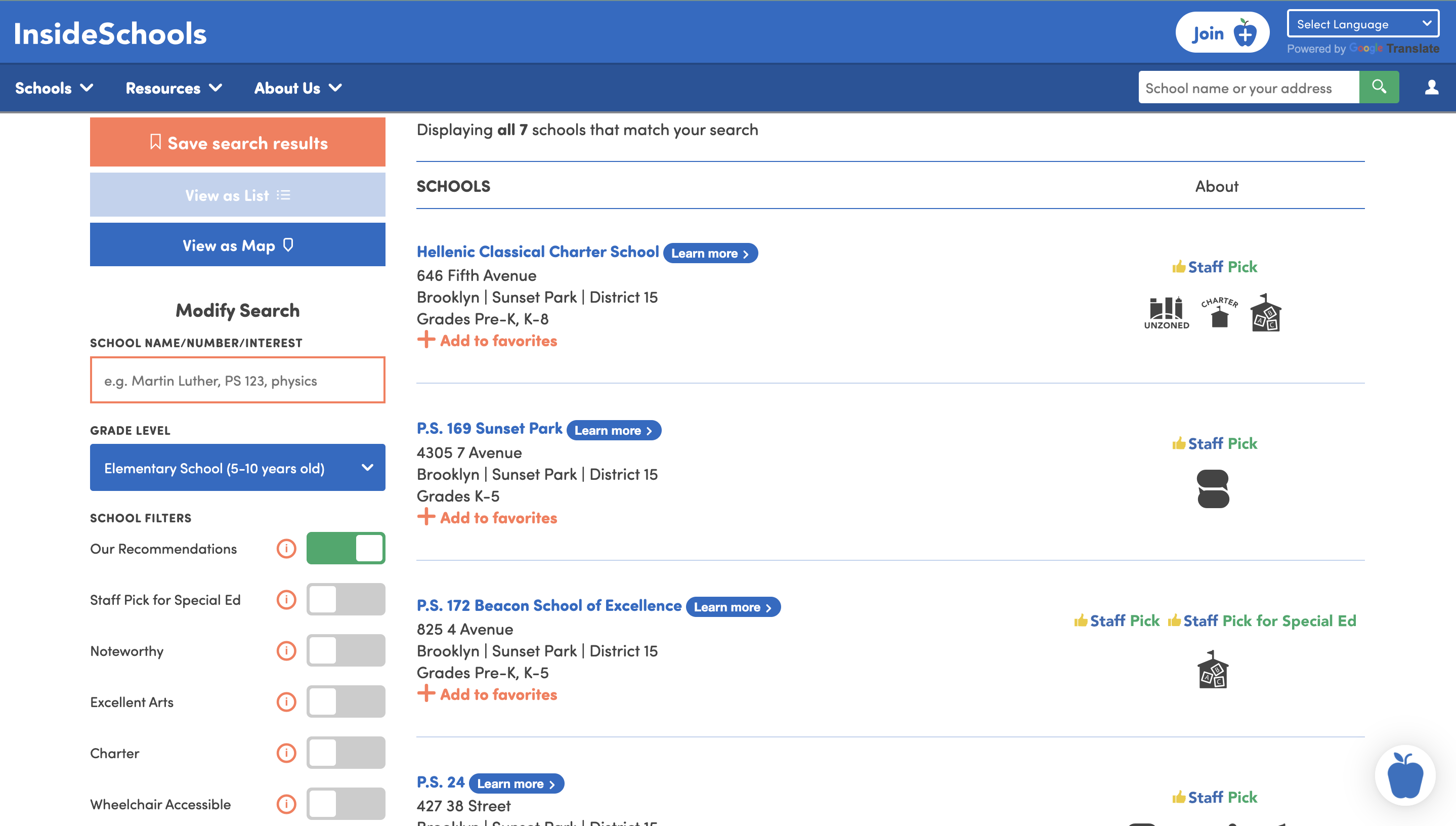 Other categories that can be selected include "gifted & talented," "charter," and "dual language." The site has reviews on all schools and provides real specifics, including rodent problems and the like.
Where to look for NYC elementary schools
There are many high-performing zoned schools in Manhattan, particularly on the Upper East Side, Upper West Side, the Village, Midtown East, and Tribeca. There are also several "choice," aka un-zoned schools, Aronow says.
Hemphill says the schools everyone has heard of—such as PS 6 on the Upper East Side, PS 87 on the Upper West Side, and PS 234 in Tribeca—"are great schools but are also in fantastically expensive neighborhoods."
Schools in Brooklyn's District 13, which includes Clinton Hill, Fort Greene, and downtown Brooklyn, have become very popular in recent years, she says.
Hemphill singles out Williamsburg as one neighborhood where schools are making great strides, including Brooklyn Arbor (PS 414).
If you want other solid schools, Hemphill says, look at District 2 (Manhattan) or District 26 in Eastern Queens. District 15 in Brooklyn is also known for its high-performing elementary schools.
And for more intel on the Bronx, check out InsideSchools's Best Bets in the Bronx.
Applying to out-of-zone schools
You can apply to schools out of your zone or even your district, and chances are better that you get a seat even in super popular schools, like the Upper East Side's PS 6 and the Upper West Side's PS 87. Note that District 1 on the Lower East Side, District 7 in the Bronx, and District 23 in Brooklyn are all so-called "choice" schools, meaning there is no zone. (See the next section below for more detail).
The DOE only releases seats after all zoned applicants have been registered.
Important to know: If you decide to move out of your zone, your child won't be required to switch schools. That's why lots of families move to a less expensive neighborhood after their child starts school in a desirable location—and why popular schools can get overcrowded because more families with school-age children repeat the pattern.
"Once your child starts at a school, they remain in the school for the duration, as long as they get to school and picked up on time," Aronow says.
So if you rent in an expensive neighborhood with a good zoned school for a year or two, and then move to a more affordable neighborhood, you can keep your child in the original school. One catch is that if you change zones, your child's younger sibling(s) won't get priority in your original zoned school, although they will have priority over those outside the district.
Note that schools can and do check to see that there were no false representations on your original application—and that you did, in fact, live in the zone when your child first started. "Especially if they've been tipped off," Aronow says.
'Choice' schools or un-zoned schools
Choice schools—as the name suggests, these are schools that parents get to "choose" rather than being zoned for—tend to be more progressive. They give priority to those who live in the district, and admission is offered via lottery. In some cases, there may be a few seats left for non-district families.
All schools in District 1 on the Lower East Side, District 7 in the Bronx, and District 23 in Brooklyn are choice schools; there are also individual non-zoned choice schools such as Midtown West, Tribeca Learning Center, and Ella Baker in District 2; Manhattan School for Children in District 3; Central Park East I and II in District 4; Central Park East I and II and Teacher's Community College in District 5; Teacher's Community College, William Lynch (formerly Hamilton Heights), Washington Heights, WHEELS, Castle Bridge School, Amistad, and Muscota in District 6; and The Children's School and the Brooklyn New School in Brooklyn's District 15.
What are magnet schools?
These are choice schools that are intended to foster diversity and receive federal funding for specialized curriculums focused on science, technology, or art. They are not gifted and talented schools, notes Alina Adams, a consultant, founder of NYC School Secrets, and author of "Getting Into NYC Kindergarten."
"Most people, if they're moving to New York from somewhere else, think these are gifted and talented schools," she says. "They're not."
That's good to know since enrollment is the same as for choice schools—no extra hurdles to clear.
According to InsideSchools, it's a good idea to call your district office to find out if there are any magnet programs in your area. You can also find magnet schools by borough and district (and even apply to them) on the official magnet school program website, or by contacting the magnet school office at (718) 759-4977 or info@magnetschools.nyc.
How charter schools work
Charter schools are public schools that operate independently of the local districts under a charter from the state Board of Regents or the State University of New York. They tend to have high standards for academic achievement and behavior, and many boast impressive standardized testing results, though some critics have questioned their record retaining children with special needs or English language learners and criticize their ability to take space and resources within public school buildings.
Admission is by lottery, but preference is given to kids in the district. A particular demographic may get priority. Applications are available on the NYC Charter School Center website or at individual schools. The application deadline is April 1st, however, some schools may have later deadlines.
Students are admitted according to the number of seats available, according to the website, and if a charter school receives more applications than available seats, the school is required to hold a lottery. Lotteries are typically held in April and May. Applicants who don't get a seat via the lottery are placed on a wait list.
What about NYC's gifted and talented programs?
Before the pandemic, there were question marks next to the city's gifted and talented program. And while there were major changes to the admissions process with the elimination of screening, it appears the program will remain during Mayor Eric Adams and School Chancellor Banks' tenure, Aronow says.
InsideSchools has more on how the gifted and talented admission process works now: Students who are presently in a DOE pre-K program will be evaluated by their teacher, who will nominate them if they are determined to be eligible. If your child is in a private, parochial, or charter school, or is being home-schooled, and if you list at least one G&T program on your kindergarten application, a DOE staff member will call and interview you about your child's gifted traits. If the staff member determines your child is eligible, your child will be nominated. "All nominated applicants then enter, in essence, a G&T lottery, as there are more applicants than seats." Aranow says .
The program was also broadly expanded, Aronow points out. "G&T will now be in every district starting with kindergarten, one can apply in kindergarten through fourth grade, and there is a new special third-grade entry point as well." Note that to get into a grade-three G&T program, the top 10 percent of second graders in each school will be invited to apply based on their grades in English, math, science, and social studies.
Adams adds that "for 2023, a fourth-grade G&T entry was also available at schools with the special third-grade track the previous year, and likely that will be the case for 2024, too."
Parents' experiences with the new admission procedure have varied widely, with some reporting feeling like their child was shut out of the process. In addition, while eligibility for the program was expanded—now several thousands more students make the cut, Adams says—only 100 seats have been added.
Besides district programs, there are citywide G&T schools—The Anderson School on the Upper West Side, NEST+M (New Explorations into Science, Technology and Math) on the Lower East Side, TAG (Talented and Gifted School for Young Scholars) in East Harlem, Brooklyn School of Inquiry in Bensonhurst, and PS/IS 300, The 30th Avenue School on two campuses in Astoria. But in the last three years, all G&T applicants have been eligible for both programs instead of admission being based on grades.
"Now there's no distinction. Everyone is in the same pot—it's just a random lottery," Adams says.
One thing hasn't changed: Even though public school enrollment is down, it's a mistake to think by moving near a gifted and talented school your child has a better chance of getting in.
"Demand is so out of proportion with supply that lower enrollment hasn't made a difference," Adams says, adding "If you move into a popular gen ed zone, even in August, you will have a good chance of getting into the zoned school in September. That's not the case with G&T. Know that the gifted and talented program is not based on zone. You do not have priority, and that's especially true now."
Going forward, you can expect additional changes to the program as school officials try to make the system fairer based on lessons learned during the pandemic.
"The past two-plus years have underscored the need to make admission to NYC schools more diverse and equitable," Zingmond says.
What to know about CUNY's gifted and talented program
Hunter College Elementary School is a free, gifted K-12 program run by Hunter College and CUNY with a curriculum that exceeds New York State-mandated guidelines issued by the Board of Regents. The elementary school (K-6) is now open to students citywide. Entry points are for kindergarten and seventh grade only, and most students join in seventh grade.
It has a separate application process, and admissions for fall 2023 have ended. According to the website, the application schedule for fall 2024 will be posted sometime in September, with all final admission notifications expected to be released in early February 2024.
Why sleeper schools might be worth a try
Aronow suggests considering new schools. "Many parents are hesitant to try them out, but these schools often have newer facilities than more established schools, plus a dynamic and engaged staff."
For example, she says schools in Hell's Kitchen are promising and increasingly popular, and Brooklyn's District 17 has momentum and an engaged community.
What are key NYC public school deadlines?
Public school students must turn five by December 31st of the year they start kindergarten (meaning they can start school before they turn five).
Tours are usually held in the fall and spring, with specific dates listed on a school's website. Plan to do them because they are a good opportunity to ask questions and get a sense of a school that you cannot get otherwise.
The application deadline for kindergarten is mid-January, and the notification date should be no later than April.
Public schools don't have interviews, per se, though the Special Music School has a music evaluation, and Hunter has an assessment for students who make it to the second round of the process, which is determined by the Stanford-Binet IQ cut-off.
Each charter school sets its own application deadline, but most require that applications be in before April 1st. Some schools have later deadlines, so inquire with individual schools.
What to know about NYC private schools
There will always be parents who choose to go private for many different reasons: Religious instruction, better facilities, smaller class size, and extras like music instruction for every student, a perk parents are not likely to find in public school
The Upper East Side has the largest concentration of private schools in the city and is home to most of the single-sex schools, such as The Browning School and The Buckley School. The Upper West Side has the second largest concentration of private schools, including Collegiate, an all-boys school.
Some of the most well-known NYC private schools include Bank Street School for Children, Columbia Grammar & Preparatory School, Dwight School, Trinity School, The Brearley School, The Dalton School, The Spence School, Friends Seminary, and LREI (Little Red Schoolhouse & Elizabeth Irwin High School) in Manhattan; Horace Mann School, Ethical Culture Fieldston School, and Riverdale Country School in the Bronx; and Berkeley Carroll Schoo;, Saint Ann's School, Poly Prep, and The Packer Collegiate Institute in Brooklyn.
Other private schools that have opened in recent years include Avenues, Basis Independent Manhattan and Basis Independent Brooklyn, and Hudson Way Immersion.
What is the age cutoff for NYC private schools?
Some private schools offer pre-K programs, some offer preschool for three-year-olds, and a very select few offer programs for two-year-olds. Once your child has been accepted into a preschool program, they don't need to apply again for kindergarten.
Unlike public schools, where kindergartners can start when they're four as long as they turn five by the end of the calendar year, the majority of private schools require that kindergartners are five years old by September 1st.
The reason for this is "the schools want to be sure that the child is socially and emotionally ready for kindergarten," says Gina Malin, the former executive director at the Parents League of New York, a nonprofit association of parents and independent schools. "Kindergartens have changed—the days are longer, and they're asking five-year-olds to do a lot more than in years past. The curriculum is more advanced."
The downside: This means that if your child's birthday is in the fall, you'll be paying for one more year of preschool.
How do students get accepted to NYC private schools?
The private school admissions process starts the September before your child enters kindergarten. Malin suggests that parents start doing their research during the spring before that.
In addition to the Parents League website, many parents rely on the "Manhattan Family Guide to Private Schools and Selective Public Schools" by Victoria Goldman. (Goldman also penned the "Manhattan Directory of Private Nursery Schools.") The Independent Schools Association of Greater New York has a comprehensive website and puts out a directory as well.
Other websites that might be worth checking out include NYSAIS.org (New York State Association of Independent Schools) and NAIS.org (National Association of Independent Schools). Individual schools have their own websites, too.
Since private school notifications go out so much earlier than for public schools, some parents who hope to get into a certain public school will put down a non-refundable deposit (around 15 percent of tuition) at the private school as a backup.
Although that's not advisable, Malin suggests that anyone who plans to do this read the private school contract carefully to make sure they are not responsible for the first tuition payment or even the full year's tuition on top of the deposit.
Each school does its own individual assessment, with many schools changing their testing procedures because of the pandemic. Typically a group or individualized tour is followed by an interview with the parents. Children are also asked to come in for a play visit.
"Usually, a family will have two to three visits to the school during the admissions process," Malin says.
In the past, applications went online in August or September, and are usually not processed until after Labor Day. Acceptance letters went out in February and you usually have a week to accept or decline.
Many schools give preference to legacies (children of former students), but schools define legacies differently. Some only include parents, some include grandparents, aunts, and uncles. Siblings almost always have priority, but admissions for siblings are not guaranteed or automatic, Malin says.
Connections don't hurt, but neither do they guarantee admission to a school, she says. And in order to make the process fair, most schools don't require letters of recommendation.
"Admissions directors don't want lots and lots of letters from various connected people," Malin says. "Especially if [the letter writers] don't know the family well."
What do private schools cost—and is financial aid available?
Tuition for schools is now $55,000 to $65,000, with newer schools closer to $40,000. Upper school tuition is sometimes a few thousand dollars more, but many ongoing schools have adopted a policy to keep tuition the same across all grades.
Since private school does not come cheap in NYC, it's no surprise that many parents inquire about financial aid.
Malin stresses that parents should not be afraid to ask about the levels of aid available; with the exception of some nursery schools, it's available at all private schools.
"Most schools have really generous financial aid packages," she says. "It varies from school to school, depending on their budget and endowment. Some offer partial aid, some offer full."
Her advice: Speak to admissions or financial aid officers. There's usually someone in the admissions or business office who deals solely with this issue. Sometimes, though, the admissions officer and financial aid officer are the same.
Private school admissions decisions are rarely "need-blind." Rather, they can be "need-aware," Malin says, meaning that admission for students requiring financial aid will depend on the family's need and the financial aid budget of the school. Most often, financial aid does not affect admission, but in some cases, it may.
Financial aid is based on many factors, including income, how much you pay in mortgage or rent, how many children you have, whether you have outstanding debt like student loans, the costs of caring for an elderly family member, etc. Many schools ask parents to fill out an application through websites like TADS or FAST. Those services take the above issues into account and generate a monetary number, and the schools use that as a guideline, doing their own calculations from that.
"Just like when you're doing your taxes, being organized is really important," Malin says. Read: You'll need to gather a lot of forms and be aware of all of the deadlines.
Sometimes accepted students can be added to a financial aid waitlist if the money is not available at the time of acceptance.
"People may not know that private schools are diverse, both socioeconomically and culturally," Malin says. "There is a wide array of independent schools in the city—Montessori, progressive, special needs, language-immersion, Waldorf schools. There are lots of philosophies and approaches."
—Earlier versions of this article contained reporting and writing by Mimi O'Connor.
Source: https://www.brickunderground.com/blog/2013/03/buyers_and_renters_guide_to_NYC_grade_schools

Get link

Facebook

Twitter

Pinterest

Email

Other Apps